Find a Career at Nanda Hospitality Group
Nanda Hospitality is a growing organization with a merit-driven philosophy. We aim to attract top talent who align with our philosophy of excellence. We are constantly looking for outstanding talent looking to grow and develop a career with our group.
Our Hiring Philosophy

Hiring and developing our team is an essential part of our culture. It is critical that we hire the best talent constantly so that of our culture of excellence is always maintained.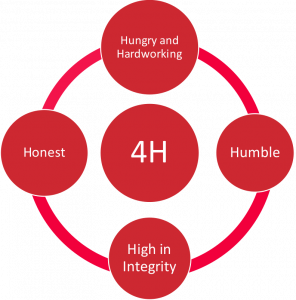 Our philosophy around human capital hinges on what we call the 4H's: Hungry and Hardworking, Honesty, Humility and High in integrity. The 4H's are a way for us to identify individuals that we believe possess the right attributes to excel in the ever-dynamic hospitality industry.
We are always on the look out for individuals who strive for excellence while keeping the 4H's in mind.
Become a Partner

We are always looking for opportunities to promote from within or grow our business with like-minded thinkers as partners. We believe that true entrepreneurs shouldn't be constrained by their access to capital to achieve what they want to do.
For our top performers, we would like there to be the opportunity to participate in the economics of the business through an equity partnership in one or many of our locations.
How our Partnership Program Works

At Nanda Hospitality Group, we are always looking for an opportunity to promote from within. If we find an all-star performer who we believe would be an excellent owner/operator then we will seek out a partnership with them. Otherwise, a potential partner may approach us with an opportunity which may be suitable for the Nanda ecosystem.
What our Partners Have to Say

"My name is Byron McNabb, I had worked for Cara Operations for almost 10 years when I made the choice to purchase a Swiss Chalet and Harvey's with Kumar Yogaretnam. I had known Kumar for most of time with Cara and his reputation proceeds him - he is a leader amongst his peers and is always sought out for new ideas and information to help grow our company. When I made the choice to franchise with Cara I knew partnering with Kumar was my only choice. His level of knowledge of the business, commitment to detail, team oriented mentality, and most importantly his willingness to win had me captivated. It goes without saying but great leaders always have great people around them and Kumar is no different."

Owner/Operator

"I joined the Nanda Hospitality Group team in 2011. Since then, I have been supported to thrive. Excellence in guest experience and increased sales are constantly top of mind because of their relentless commitment to a systems approach - it demands exceptional leadership and consistently supports me in driving strong results. I feel a part of something big and can't wait for what's ahead!"

Owner/Operator